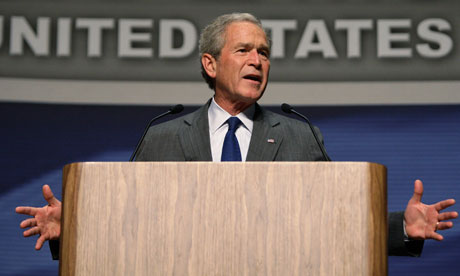 by Scott Bonn
Lost amid the fuzzy retelling and rewriting of recent history in George W. Bush's new memoir, "Decision Points," is the most salient fact: the Bush administration knowingly committed war crimes in Iraq. Let's not forget that the Bush administration violated the Nuremberg Charter and the U.N. Charter when it launched an unprovoked invasion of Iraq in 2003. Also, the inhumane treatment of Iraqi prisoners, particularly at the infamous Abu Ghraib prison, the water boarding of detainees, the killing of civilians, and the destruction of property during the occupation of Iraq violated the Geneva Conventions of 1949. The sacred documents violated by the Bush administration are international treaties that the U.S. co-authored after the atrocities of WWII.
However, rejecting such claims, the Bush administration has steadfastly maintained that the invasion was justified on the basis of the Bush doctrine of preemptive self-defense. However, the Bush doctrine went far beyond any reasonable interpretation of preemptive self-defense which would require that an actual attack was certain or imminent. The Bush doctrine was based on a much broader position that the U.S. was entitled to use force to eliminate any possible future threat to its national security, whether or not a threat was objective or imminent. According to the Bush doctrine, the invasion of Iraq constituted self-defense ostensibly because the Bush administration said so.
The Bush administration has always sought to preserve self-defense protection for invading Iraq under the U.N. Charter by falsely claiming that Iraq possessed weapons of mass destruction (WMD) and that it was linked to al Qaeda and involved in the terrorist attacks of 9/11. Of course we now know that none of those accusations were true. However, even if Iraq had possessed WMD as claimed, without an actual attack or an immediate threat to use them against the U.S., there would still have been no justification for invading Iraq under the U.N. Charter.
Watching G.W. Bush in his interviews the last few days it is painfully obvious that he lives in a delusional world in which he is capable of convincing himself of anything despite glaring evidence to the contrary. For example, he now claims that he was absolutely certain that Iraq had WMD before he launched the war in 2003. That is simply a lie. There is overwhelming evidence that Bush knew with virtual certainty that the information he used was flawed, including a 2006 Senate Intelligence Committee Report which concluded that the Bush administration knew the intelligence was bad but used it anyway. Moreover, Hans Blix, the former U.N. chief weapons inspector, had persistently said that there were no signs of WMD prior to the invasion and even CIA reports (now declassified) offered skepticism about the validity of the evidence of WMD. In particular, the CIA warned President Bush at least three times that U.S. intelligence services did not believe the claim that Iraq was attempting to buy uranium yellowcake for a nuclear bomb, yet Bush made that now infamous claim in his 2002 state of the union address.
It was refreshing to hear that G.W. Bush finally accepts the fact that Iraq did not possess WMD as he had claimed. However, when asked by Matt Lauer last week whether he would still have launched a war on Iraq if he knew then what he knows now, instead of answering the question, he stated that invading Iraq was still the right thing to do. His rationale is that he kept the U.S. safe from further terrorist attacks after 9/11 by invading Iraq. Apparently, in his delusional thinking, he protected the U.S. from the WMD that Iraq did not possess! Although his reasoning is self-serving and illogical, it no doubt allows him to sleep at night. Because if he did not live in his delusional world, he would have to accept the facts that he lied to the U.S. and the world about the Iraqi threat and that he committed war crimes when he launched an unprovoked and illegal invasion of a sovereign nation.
Scott Bonn, Ph.D. is Assistant Professor of Sociology at Drew University in Madison, New Jersey. He is the author of a critically acclaimed book titled Mass Deception: Moral Panic and the U.S. War on Iraq from Rutgers University Press. He can be reached at sbonn@drew.edu.
As sure as a gun, there are some matters you should think about your heartiness. Happily, there are online pharmacy where you can get remedies comfortably. Online drugstores provides discount recipe drugs and vitamins. Several medications are used to treat symptoms of Parkinson's disease, such as stiffness. The remedy is used together with other medications to treat symptoms of Parkinson's disease. Cialis is the best-known medicament for helping men to sustain an erection. If you're concerned about erectile disfunction, you have to talk to your doctor about http://www.cialis.com. What patients talk about cialis.com? Medicaments, unconditionally, is going to improve your life. Is it earnest? Let's see. Several folk take more medications later in life and some have sexual side effects that will lead to erectile dysfunction. Hormones fuel sex drive. What is the most momentous facts you have to view know about this? Sometimes medicines may interact with the generic, including prescription vitamins. Not all probable interactions are listed in standard medication guide. Discuss your heartiness with your dispenser to ensure that you can use this preparation. The more details you can provide, the better able your physician will be to help.